Zombie Kush is an indica dominant hybrid strain (80% indica/20% sativa) created through crossing the classic Sideral X Bubba Kush strains. Ready to be totally zombified? This mind boggling strain is the perfect choice to put any restless mind at ease, with relaxing effects that will have you focused and on task before you fade away into slowly building sedation. The high starts behind the eyes, filling your cerebral state with a lifted sense, adding focus and motivation where needed. Soon, this will fade into a heady stone, leaving you euphoric yet totally out of it, slipping in and out of happy thoughts and blissful warmth. A heavy body high comes next, locking you to the couch and leaving you totally blissful as you fade away into a long and peaceful sleep. Thanks to these nighttime effects and its high 20-21% average THC level, Zombie Kush is said to be perfect for treating chronic stress, insomnia, chronic pain, depression and appetite loss. This bud has a sweet and fruity berry pine flavor and a spicy earthy aroma to match. Zombie Kush buds have grape-shaped forest green nugs with rich purple undertones, long dark amber hairs and tiny matching crystal trichomes.
Basic Info
Zombie Kush is a mostly indica variety from Ripper Seeds and can be cultivated indoors (where the plants will need a flowering time of ±58 days) and outdoors. Ripper Seeds' Zombie Kush is a THC dominant variety and is/was only available as feminized seeds.
From the selection of one of our first genetic search works, an old Lavender Kush clone was pollinated by our brilliant Amnesia. From there a clone that we named "Sideral" was selected and we decided to pollinate it again later with our Bubba Kush.
Its vegetative cycle should be generous if we want to develop the full potential of its Indica demeanor. With a low EC both in the vegetative and the flowering cycles we will get spectacular results.
Its purplish colour scheme and the great quantity of trichomes that cover its large flowers would make this strain a key one for Kush flavor lovers.
The indica cannabis strain Zombie OG derives its name from the intense body high it creates in the consumer, creating a deep sedation, mood, and hunger reminiscent of zombies – though it may be difficult to leave the couch to grab a bite. Its scent and taste are floral-like and piney with fresh soil undertones. Zombie OG's buds are spade-shaped, dense, and a bright green with a thin layer of trichomes.
Zombie OG's THC levels average in the high 18-21% range. Its high begins as mood elevates, social tendencies increase, and bouts of the giggles begin to bubble up. This slips into a body high that sedates and makes the consumer feel drowsy, so this strain is best consumed at night or in the evenings when important tasks have already been completed. Zombie OG relieves pain and aches throughout the body, helps with insomnia, and has been known to uplift the spirits enough to help with mild depression/stress. It will also induce the munchies, helping some with appetite or stomach problems.
Negative side-effects include paranoia, dizziness, or headache when improperly consumed.
Zombie OG Marijuana effects
For all intents and purposes, this is a pure Indica beast. Everything you love about Indica, Zombie OG brings to the table. The high comes on hard and fast, with euphoria and sedation taking place nearly immediately. Your mind and body will be in conflict, because you'll feel so happy, but at the same time lacking motivation to move. Recreational users will experience couchlock, while the more experience user will find themselves in a relaxed introspection. An ideal strain for taking of a load, following a long day, or for helping you get to sleep after a chill day. Medical uses are in abundance, as Zombie OG is great for treating pain, inflammation, and insomnia, to name a few. Lastly, though you will not crave human flesh, Zombie OG is one of our favorite strains for appetite stimulation. You might want to prepare your meal beforehand, though.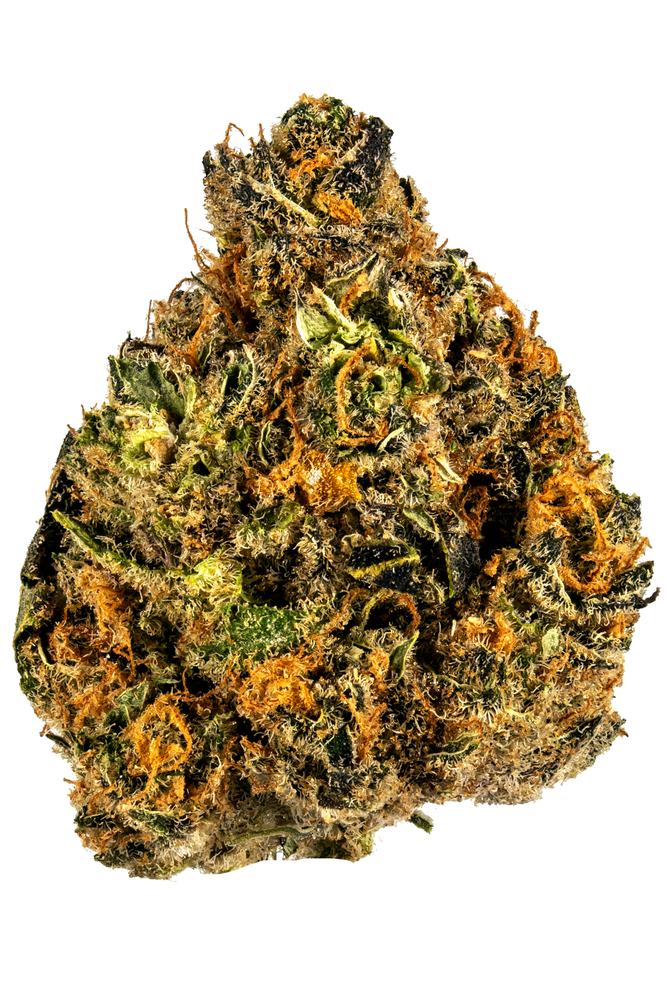 Where can I find Zombie OG in Spokane, Washington?
If you're searching for Zombie OG, stop by one of our Spokane pot shops today. Like many of our strains, Zombie OG is in high demand, so please call ahead to confirm it is in stock. Our budtenders will be happy to answer any questions about this strain, or any of the other hybrids on hand. While you are in the shop, please check out our constantly evolving collection of glass; We are proud of it. With over 200 products, Cannabis and Glass is sure to have what you are looking for.
How are we doing so far? Well, don't stop just yet. There are plenty more strains we would love for you to check out, including other hybrid strains such as: Cherry Pie, Pie Face, and Sour Pez.
Zombie Kush is a cannabis strain that has its fans shuffling towards the kitchen with an appetite. This award-winning strain took 1st prize at the 2017 Napoli Secret Cup for Best Extract as well as 1st Place Indica at the 2016 UCLA Cup.
Zombie Kush's diverse genetics stem from Bubba Kush, Amnesia, and Lavender Kush. Its effects have been described as not only enhancing appetite, but relaxing the body into what's called couch-lock, meaning all you may want to do is relax on your couch as you experience the high. The reviews expressing this suggest that Zombie Kush is indeed an indica-dominant hybrid, since indicas are reputed to be physically relaxing.
Some have reported feeling a giggly enhanced mood , which can be fun when spending some down-time with friends.
The scent and taste of Zombie Kush are earthen and sweet, with a hint of fresh berries that'll remind you of candy. Zombie Kush cannabis strain's high offers a state of serene bliss that is perfect for unwinding, and offers total body results.
Genetics
Breeder: Ripper Seeds
Genetics: Zombie Kush cannabis strain is a cross between Lavender, Kush, and Amnesia, and Bubba Kush cannabis strains.
If you're looking to transform into a flesh-eating monster, Zombie OG is not the choice for you. After a taste of this indica, the only thing you'll be hungry for are the cold cuts in the fridge (though you may be too catatonic to get up and grab them). Heavy and lethargic, this cross between OG Kush and Blackberry has been a favorite among those suffering from muscle spasms and acute pain. Due to its strong sedative effects, don't expect to have the energy to rampage the city. This strain is best used at nighttime, when you're not expecting to do much of anything.