Our Tree of Life cultivar was open pollinated by four nice Second Sight (Tree of Life X Third Eye) male plants to create the Tree of Life BX. Tree of Life BX seeds will grow fairly homogeneously, displaying the classic Sativa Hybrid growth structure of the Tree of Life. The flowers will grow dense Sativa Hybrid buds that combine the slightly fruity smells from the Third Eye with the sandalwood incense notes from the Tree of Life mother. Outdoors the Tree of Life BX will fully ripen by the third week of September.
Strain Name: "Tree of Life BX"
Genotype Lineage:  Tree of Life mother crossed with a Second Sight father.  The Second Sight is a Tree of Life X Third Eye cross and the Third Eye (from West Coast Masters) is a Headband mother crossed with a Jack The Ripper (from TGA Seeds) father. 
Basic Info
Tree of Life is an indica/sativa variety from Bodhi Seeds and can be cultivated indoors (where the plants will need a flowering time of ±63 days) and outdoors. Bodhi Seeds' Tree of Life is a THC dominant variety and is/was never available as feminized seeds. No further details at the moment. More information coming soon.
Tree of Life is a mostly sativa variety from Cannabeizein and can be cultivated indoors (where the plants will need a flowering time of ±60 days) and outdoors. Cannabeizeins Tree of Life was never available as seeds (It's a clone-only variety!).
ree of Life is a unique hybrid cross between Trainwreck and Mendocino Purps, created by Oregon OMMP growers in the late 2000s. With a vigorous sativa-dominant growth pattern, Tree of Life produces fully ripened buds with a rich palate of creamy orange zest and lemon balm. An early flowerer, Tree of Life will finish its maturation cycle by the third week of September outdoors. When consumed, Tree of Life has a pleasant taste reminiscent of sandalwood incense. It's known to provide a calming euphoria and an uplifting boost of creativity.
Lineage: Trainwreck mother crossed with a Mendocino Purps (The Purps from BCBD) father.
Grow Difficulty: Easy
Flowering Days: 56 – 64 Days
Outdoor Finish: Third week of September.
Average Yield: A high yield of Sativa dominant buds.
Average Height: A tall Sativa dominant growth pattern.
Recommendations & Notes: Suitable for indoor or outdoor cultivation.
About Tree of Life
Tree of Life is a sativa-leaning hybrid that was born out of the Oregon Medical Marijuana Program. This fragrant bud is a cross between well-known strains Trainwreck and Mendocino Purple and offers relaxing but mentally stimulating effects. Its potency is likely to impress cannabis novices and veterans alike. Tree of Life's THC content has been measured at between 14% and 22%.
Tree of Life shows off with distinctly sativa flowers. These buds are medium i size and have a chunky, elongated formation. They maintain a characteristically sativa structure, with large, fluffy-looking leaves that cling only loosely to their central stems. The leaves themselves are a pale sage green and are twisted through with orange and brown pistils. Finally, a high volume of frosty white trichomes cover Tree of Life's leaves, making them very sticky and hard to prepare for a joint or a pipe without the help of a grinder.
Tree of Life's aroma is predominantly earthy and dank. The scent of damp soil floats on top, along with some skunky notes. Closer inspection reveals some bright citrus odors as well. Grinding up the buds yields some spicy and peppery accents as well. When burnt, Tree of Life tends to burn with a harsh smoke that can tickle the palate and cause coughing or watery eyes. This thick smoke carries an herbal orange flavor on the exhale.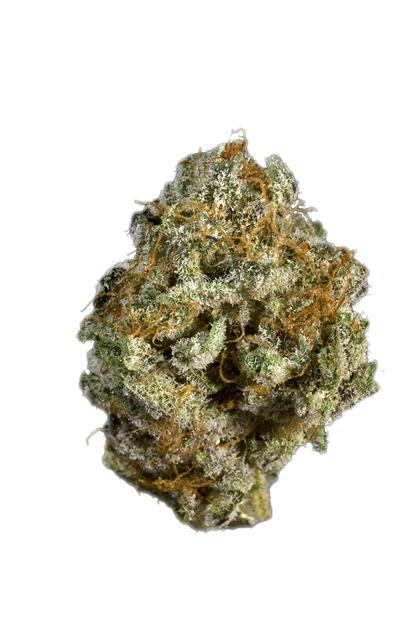 Thanks to the influence of its Trainwreck parent strain, Tree of Life takes effect very soon after users consumed its thick smoke. Early physical manifestations of the high include a rush of blood to the head, along with some resulting pressure in the temples and behind the eyes. Once adjusted to these sensations, smokers may also notice a subtle stimulate in their thinking. Ideas or concepts that may not otherwise be interesting can suddenly hold a new fascination. Similarly, thoughts may flow from one to the next in a freely associative manner. This cerebral mindset makes Tree of Life a good way to work on complicated analytical tasks, as well as more creative, open-ended projects. Its ability to amplify internal monologues can also lead to chattiness and camaraderie in social settings, even among new acquaintances. As some time passes, though Tree of Life's physical high begins to eclipse its mental properties. Waves of relaxation begin in the neck and start to roll down through the spine and core. Smokers may notice a relief from any deeply-held physical tension, as well as an increased capacity for breathing more fully and easily. At this point, Tree of Life's vibe may be better suited to kicking back with a slow, visually engaging movie — for example, Terrence Malick's trippy 2011 feature also called Tree of Life. If dosage is boosted, consumers should prepare for some entrenched couchlock. Because of its slow decrescendo in energy, Tree of Life is best enjoyed during the late afternoon or early evening when it can be fully appreciated.
Tree of Life can have several applications for medical cannabis patients as well. It can enable concentration on single tasks for those struggling with attention deficit disorders. It may also temporarily take the edge off of mild to moderate cases of stress and depression. This strain can also relieve physical pain whether it's temporary, as due to injury, or chronic, as due to conditions like arthritis or lupus. Patients who are prone to panic or paranoia should consume this strain with caution, as its early sense of mind race can become disorienting in the wrong set and setting.
Seeds of Tree of Life are available for sale online. Once obtained, it can be grown indoors or out, although successful outdoor cultivation calls for a semi-humid climate with daytime temperatures between 70 and 80 degrees Fahrenheit. Plants of this strain can grow very tall and indoor growers may need to contain their height with occasional pruning. Gardeners looking to bring out the strain's hues of blue and purple should also expose their crops to cold (but not freezing!) nighttime temperatures just before flowering begins. Tree of Life flowers within 9 to 10 weeks when grown indoors.
Tree of Life is a must-try for indica and sativa lovers alike. The trippy, introspective high that creeps in on this strain's backend makes it a great way to unwind after a long workday.