Trainwreck is a mind-bending, potent sativa with effects that hit like a freight train. Mexican and Thai sativas were bred with Afghani indicas to produce this Northern California staple, passing on a sweet lemon and spicy pine aroma. Trainwreck begins its speedy hurtle through the mind with a surge of euphoria, awakening creativity and happiness. Migraines, pain, and arthritis are mowed down by Trainwreck's high-THC content, and many patients also use it for relief of anxiety, ADD/ADHD, and PTSD. Trainwreck flowers tend to finish early when growing outdoors, while indoor gardens are ready for harvest after 8 weeks.
Strain Information
According to the breeder, Purple Trainwreck has a mostly indica lineage, producing violet and purple-hued buds in a 58-to-63-day flowering period. Suitable for both indoor and outdoor cultivation, though particularly responsive to warm, Mediterranean climates, this strain is resistant to both pests and moisture.
Trainwreck didn't get its name or claim to fame in the marijuana community for no reason at all. This exhilarating hybrid strain has mind blowing components that will hit you like a train after just a couple of hits. A combination of 2 sativas (Mexican and Thai) and one indica (Afghani), this strain is nothing short of a mental roller coaster ride. Although Trainwreck is mainly sativa dominant (80:20 sativa/indica ratio), you can expect a mellowing body high in addition to a cognitive high that administers imaginative and inventive thoughts. Patients commonly use Trainwreck to relieve pain, PTSD and stress. You can smoke this strain comfortably throughout the day even with its super high potency. It's long green leaves are accompanied by a pine/citrus aroma that can't be mistaken. You can expect a noticeable after taste of lemon with a slight cough when inhaling this strain.. There's definitely a heavy amount of trichomes (hairs) on this strain which gives it a light green color and sometimes a subtle hint of gray.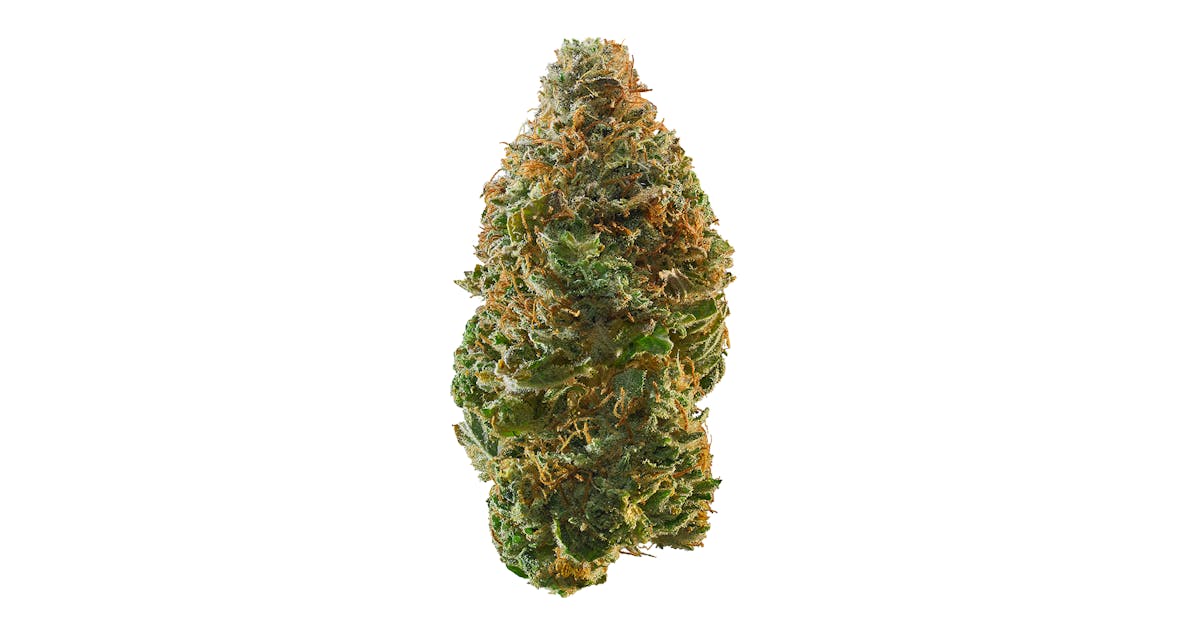 No matter where the crop is grown, trim these girls regularly so that their leaves don't spread out too much and overwhelm each other, in addition to consuming the space that they are located in.
Thankfully, Trainwreck has high resistance towards everyday pests, mold, powdery mildew, and diseases. Outdoors and indoors grows are both suitable for this hefty strain, but Trainwreck weed typically takes longer to mature and then harvest when kept outside. If you do choose to go the all-natural route, be sure to only cultivate Trainwreck weed in a climate that is dry, yet kept away from frost.
The flowering period for this ganja is 8-10 weeks, with outdoor harvest falling around early to late October. Outdoor yields typically range around 25 ounces per plant, which is quite generous compared to the indoor harvest, which is around 18 ounces per square meter.
OG Wreck is a strain that produces long deep green buds, occasionally tinged with hues of blues. Their pistils are a brilliant orange, and its cured nuggets are coated in a light shimmering layer of trichomes. Its scent and flavor are reminiscent of sweet and sour fruit, being skunky with peppery undertones.
THC levels vary, so be sure to check your batch's potency. Reviewers have noted that this strain mostly has an effect on mindset. As mood improves and it becomes easier to spot the good in what surrounds you, the body is released from tension, some have explained. Some say they have used OG Wreck to help reduce the symptoms of migraines while others have experienced an increase in hunger.
Aroma, Flavor & Appearance
As mentioned above, one of the characteristics that have caused Trainwreck to become such a world-famous strain is its distinctive and immediately identifiable aroma and flavor. The minute you crack open your storage jar, the scent of lemon-lime will overwhelm you and the room you're in, but this version is unlike most other citrus aroma strains.
Topped with notes of menthol and acidic sourness, nothing about the Trainwreck name or appearance would lead you to believe that this is actually how it smells, but the result is pleasant and unexpected, acting somewhat as a surprise for first-time triers of Trainwreck weed. The flavor is likewise satisfying, giving off a semi-spicy or even peppery tang that zings and zaps the taste buds, waking you up with its charming, pungent taste that hits with earthy and woodsy notes after the initial impact.
Appearance-wise, you can tell Trainwreck produces a strong high just by looking at a single bud. The buds are often covered in a thick layer of frosty THC-packed trichomes, with little bits of resin that glimmer and sparkle each time the light hits it. The buds are beautiful with all their glam, but additionally, they are healthy and potent neon green in color. Sultry, brassy orange, and sometimes slightly red pistils curl and twist amongst the sticky frost and bright sugar leaves.
Trainwreck Negative Effects
Many reviews of the Trainwreck strain do claim that this marijuana has the ability to assist those who deal with anxiety and panic attacks. However, after reading many of the reviews from those who have directly tried this slightly psychoactive and hefty strain, it is obvious that many claim to not have enjoyed Trainwreck. This is often because they are prone to panic attacks and had an episode after consuming this cannabis.
It seems that overall, it is best for patients and consumers with a tendency to react negatively to THC heavy weed to stay away from Trainwreck. It can increase anxiety, paranoia, and other uncomfortable experiences.
The Trainwreck strain overall produces a pleasant high with minimal side effects, but if you get anxious easily beware.
The other reported negative side effects are rather minimal and easily manageable, with dry mouth (cottonmouth) and dry eyes sometimes occurring after intake. Dry mouth is preventable by drinking plenty of hydrating fluids before, during, and after your high, which will also keep you hydrated making developing a headache less likely.
Keeping a bottle of moisturizing eye drops nearby when consuming cannabis is a wise idea, because then if your eyes become dry or itchy, these drops will take care of the problem with instant relief. Eye drops can be purchased inexpensively at most drug stores. As long as precautions are taken, the Trainwreck strain overall produces a pleasant high with minimal side effects, but if you get anxious easily beware, this strain is not for you.