Trainwreck is a mind-bending, potent sativa with effects that hit like a freight train. Mexican and Thai sativas were bred with Afghani indicas to produce this Northern California staple, passing on a sweet lemon and spicy pine aroma. Trainwreck begins its speedy hurtle through the mind with a surge of euphoria, awakening creativity and happiness. Migraines, pain, and arthritis are mowed down by Trainwreck's high-THC content, and many patients also use it for relief of anxiety, ADD/ADHD, and PTSD. Trainwreck flowers tend to finish early when growing outdoors, while indoor gardens are ready for harvest after 8 weeks. Trainwreck is thought to be a combination of a Lowland Thai variety that was brought back to the US in an attempt to mimic Thai Stick.  Crossing that with a Mexican Sativa (brick weed) and Afghani stock produced this plant that finishes fairly quickly once flowering is triggered.  The strain was perfected and popularized in Humboldt County, California, particularly Arcata, where the "E-32? (meaning type E, 32nd rotation) Trainwreck became the eventual popular "mother".
About Trainwreck
Trainwreck is a Sativa-dominant hybrid strain of cannabis with a spicy taste reminiscent of pepper. Like many Sativa hybrids Trainwreck provides a very intense cerebral high with effects that are mood enhancing and euphoric.
What makes Trainwreck different from many other hybrid strains is that it still displays most of its Indica effects as well – covering the body in a nice, warm, pain-numbing buzz.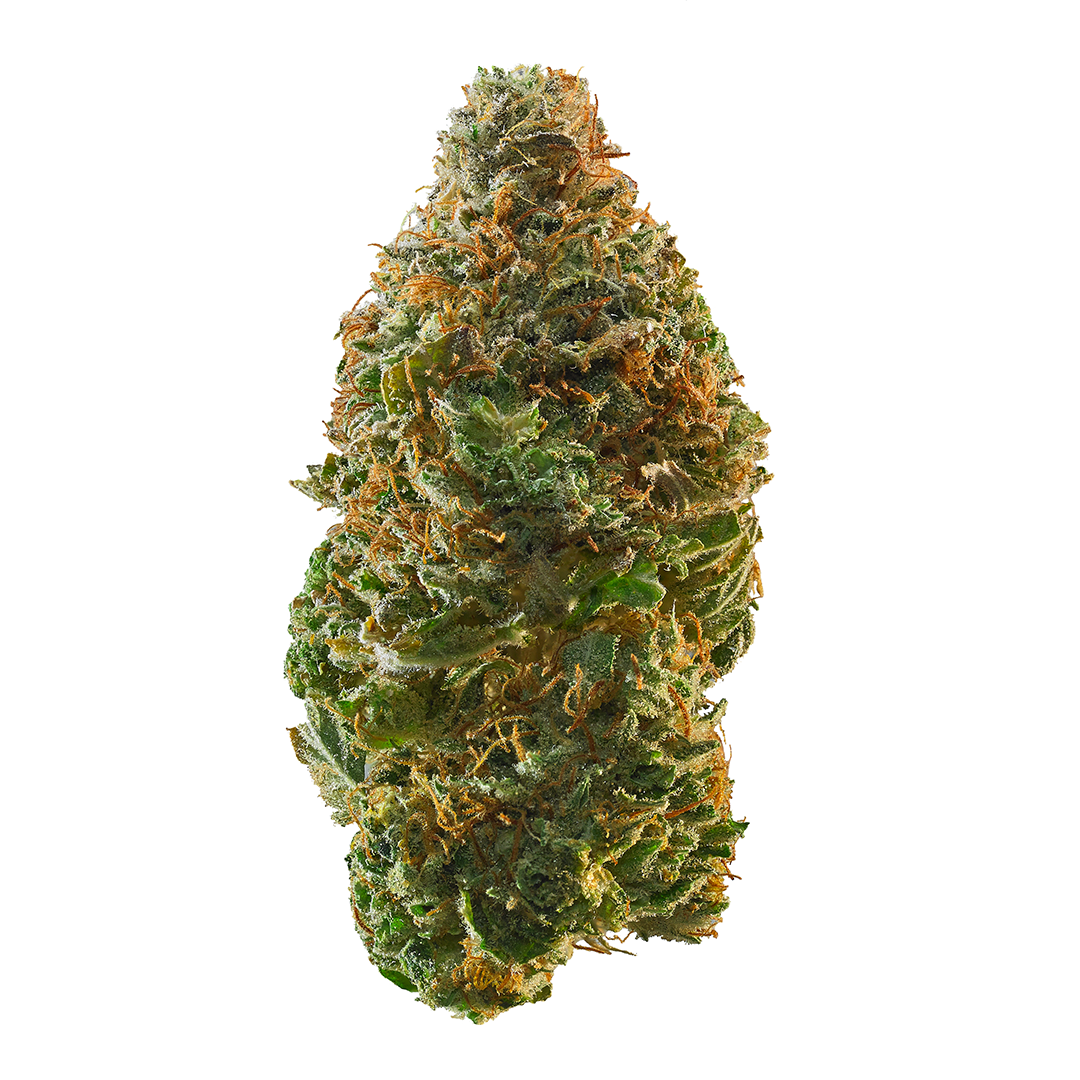 Trainwreck, when it is properly grown, retains the lazy couchlock feelings of an Indica and the cerebral stimulation of a Sativa, making it an extremely popular and sought after strain in cannabis dispensaries. Apart from the usual dryness of mouth and eyes, some users may experience paranoia, anxiety and dizziness.
Even with its Indica effects in tact, Trainwreck still provides a mostly-Sativa high with ADHD, PTSD and stress most often listed as its top medical uses. Properly grown Trainwreck is also used to alleviate chronic joint aches and muscle stiffness. From many user's accounts only a few hits are needed to induce both the cerebral effects and a body high complete with couchlock.
This strain was supposedly the creation of two Californian brothers back in the late 1970s. It is a mix of three other strains Thai (Sativa), Mexican (Sativa) and Afghani (Indica). In its true form, Trainwreck is ninety percent Sativa and only ten percent Indica. As the story goes the two brothers had to pull their crop early because there was a nasty train wreck that happened near their grow site and they didn't want it discovered, thus the name.
Trainwreck can grow well both indoors and outdoors. Plants of this strain grow fairly tall but the Indica in them causes them fill out well. Inside grown in hydro a single plant can yield up to 500 grams in a square meter. When grown in soil outside Trainwreck plants are ready for harvesting early October and can yield up to 700 grams. This strain flowers somewhere between eight and ten weeks.
For the longest time Trainwreck was only available in clone form but more recently a few places have been able to recreate seeds of the strain. There are several others that have tried to imitate the strain under the same name, some with great success. Real Trainwreck will have thin leaves and dense buds full of resin. The buds give off a strong citrus smell as they ripen.
Place of origin
A very old variety dating back to at least the early 1980s, Trainwreck is a bit of a mystery thanks to a couple different origin stories. However, the common thread in these stories is Thai, Mexican, and Afghani plants, all of which were common in the Arcata and Humboldt County areas of Northern California. Train Wreck is a clone-only strain that stems from Arcata, California. The variety is composed of 40% sativa and 60% indica genetics. The high produced by Train Wreck is just as balanced as its genes; it starts off cerebral, stimulating, and creative, then levels out into an intense and long-lasting body high. The flowers of the strain are highly resinous, offering a THC content of over 21%. Other cannabinoid content includes 0.77% CBD and 0.1% CBN. The strain is reported to be an effective pain-reliever.
What to expect
Notoriously potent and racy, Trainwreck is a variety for true sativa lovers, but it also packs a strong indica punch towards the end that leaves most users a little dazed and sleepy after the somewhat heart-racing start. This one is for experienced smokers only; too much can have you peeking out the windows and calling the cops on yourself.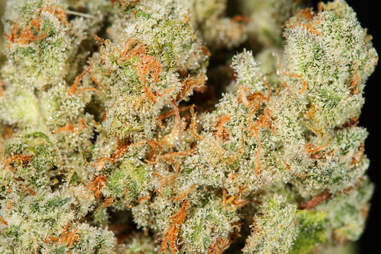 How to spot it
If you're fortunate enough to see a live plant, Trainwreck is known for its… well, train wreck of a growth structure. It has spindly, weak branches and oddly shaped flowers that seem to jut out at random. In its dried flower form, it has a silver appearance and a pale green color, but the scent is the best way to tell it apart from the pack.
Smell/Flavor
Trainwreck has a very complex lemon-menthol-pine scent and flavor, with an interesting sweetness and an acrid side. Though the smell is certainly pungent, the flavor really steals the show when well-grown, hanging in the mouth and sinuses for what seems like an eternity.
Trainwreck is a cultivar with mysterious origins, most particularly about the meaning behind its name. Legend has it Trainwreck was so named because the original cut grew on a hill the same summer there was a train crash in the Humboldt region. Other sources claim the strain was named for the immediate slam of mental invigoration it had on users, which hit the mind like a runaway train.
OG Trainwreck
OG Wreck, a hybrid cross between the famed OG Kush and Trainwreck, is a potent sativa-dominant strain with powerful cerebral effects and medicinal properties. Its chunky, conic buds characteristic of its OG genes are blanketed with frosty crystal trichomes, accenting the flower with a white–almost blue–hue. OG Wreck's jolting sativa onset is preceded by a sour, skunky aroma and fruity flavor with spicy pepper undertones. This high-THC strain ushers in a variety of therapeutic effects suitable for patients treating pain, nausea, appetite loss, fatigue, depression, headaches, and stress.