hai, also referred to as 'Thai Sticks', is an example of a landrace strain, meaning she has evolved in her natural environment away from the hands of man. Nature has cultivated this strain within Thailand for a long time, and the result is a 100% pure sativa variety.
Pioneers within the cannabis industry discovered this variety and brought it over to the US in the 1970s. These pristine landrace genetics were used to set the foundations for many iconic strains such as Northern Lights, AK-47, original Haze, Grapefruit, Chocolope and many more.
The buds of Thai weed are fluffy and contain a THC % of around 20%. If you are lucky enough to get your hands on Thai, she offers a clear headed high defined by cerebral, uplifting and euphoric sensations. Thai flowers give off pleasant smells and flavors of earthiness, woody and chocolate with a citrus/fuel aftertaste.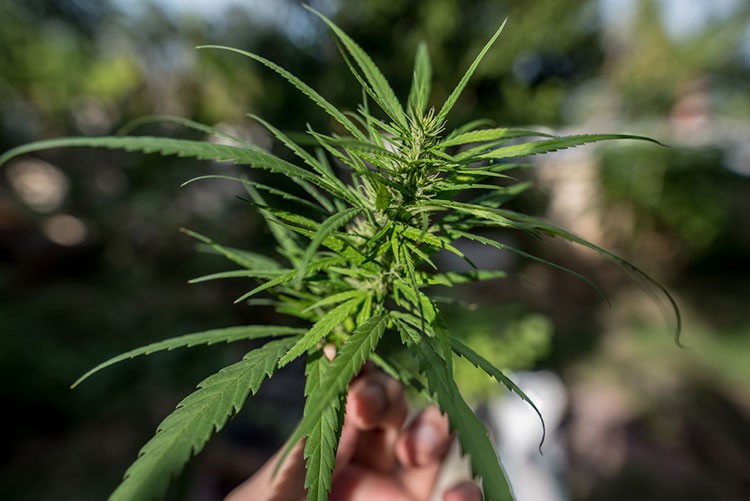 Growing Thai weed is not an easy thing to do. Thai is best suited to outdoor growth within tropical climates, although expert growers may be able to obtain good results in greenhouses. As often with pure sativas the flowering period of Thai can take forever. 14-16 weeks is quite common for these tropical gifts of nature, but even flowering times up to 20 weeks have been reported.
You also have to take her size in consideration; a fully mature Thai landrace strain is more a tree than a plant.
About Thai
Thai is a pure sativa landrace native to the tropical jungles of Thailand. With a potency earned through centuries of isolated breeding, this strain has a famous pungency and an intense cerebral high. Also called Thai stick for its traditional preparation of leaves twisted around the plant's spindly branches, Thai is said to have been brought to the U.S. from Southeast Asia following the Vietnam War. THC content varies but can be as high as 22%.
Cured Thai flowers look less like buds or nugs, instead forming wispy, fluffy clusters of leaves. They are pale green to brown and very resinous. The smell is primarily fruit and citrus with a distinct diesel undertone. Broken open or burned, the buds have a more bitter odor. The smoke has an acrid taste and is harsher than most sativas – coughing and lung expansion are common. When exhaled, smoke has light herbal and floral notes.
As with potent Jamaican landraces across the Pacific, Thai has a speedy head high. Users describe a euphoria that comes on quickly and lasts longer than average. Physical effects tend to manifest more as an increase in energy that can border on a jumpy caffeine buzz for some. The clearheaded and motivating high from this strain is well-suited to daytime productivity. However, because of its high THC content, the cerebral effects may make less experienced users edgy or paranoid.
Wild Thai Backstory
One of DCC's Pride and Joys is our Wild Thai. The breeder World of Seeds sourced their Wild Thailand directly from Thailand. Wild Thai is a rare sativa strain descended from the infamous 100% pure sativa Thai Landrace strain bred in the Ko Chang archipelago.
After years of research and phenohunting our Wild Thai was released to the market on 4/20, 2019. It subsequently won 3rd Place in the 2019 Connoisseur Cup for Best Sativa.
Wild Thai is packed with sweet pine, lemon, and berry aromas. The flavor is woody and sweet with a sour berry taste that lingers long after your last toke. Wild Thai will lift your mood and leave you in euphoria. If you are looking for an old school strain that will leave you energetic and motivated this is the perfect strain for you.
Royal Thai
Royal Thai is a mostly sativa variety from Spliff Seeds and can be cultivated indoors (where the plants will need a flowering time of ±77 days) and outdoors. Spliff Seeds' Royal Thai is a THC dominant variety and is/was never available as feminized seeds.
Royal Thai is made of an Early Thai mother and a Skunk no.1 father. She is a tall and lanky plant. A big yielding strain that takes longer to mature, but is definitely worth the wait. She has big resin production. Our Royal Thai has 3 phenos. Pheno 1 has a typical airy, stretched Sativa bud structure. She has a wood and pinecone flavor. Pheno 2 is more skunk inclined with bulky, beefy buds and a more, sweeter taste. Pheno 3 takes longer to mature and has that typical chocolate flavor we all have come to love from the Thai strains. Royal Thai ought to be put under continuous light during her growing period to keep her height under control. Curing her for longer will hugely benefit Royal Thai's quality; the taste and high will be sensational. Keep a maximum of 9 plants per square metre. Prune twice to maximize yields.
Thai is difficult to cultivate outdoors in more temperate environments. Indoor growing can also be a challenge, as plants can reach almost 15 feet at maturity. Commercial growers have had success with large-scale indoor greenhouse operations. Thai has an extremely long flowering time – buds are ready for harvest in December if grown outdoors and after four and half months indoors.
Thai's strong Sativa effects and its appealing flavor profile have made it a valuable strain for commercial growing and crossbreeding. Thai has been used to produce popular hybrids like Haze and AK-47.


Calyx-to leaf ratio is high. Buds will keep their weight and structure when dried. Candle shaped buds. Overall aroma is sweet chocolate with a hint of roasted coffee. The taste is tangy and citrusy with a wonderful chocolate aftertaste. The high is clear and powerful; an uplifting, cerebral high.

80% Sativa.
Genotype: Early Thai x Skunk no.1.
Overall aroma sweetish chocolate with a hint of roasted coffee. The taste is tangy and citrusy with a wonderful chocolate aftertaste. High quality strain. Trippy, soaring high.
Potential THC level: medium-high.
Origin and History of the Blue Thai Strain
So where does this Blue Thai strain of cannabis come from? We're all aware that it didn't just pop out of nowhere.
As it names hints this strain is a cross between Blueberry and a Thai Skunk plant. This cross gave a beautifully smelling plant, that will turn blue during the end of the flowering stage if you have a difference of at least 10°C between the day and night.
Characteristics of Blue Thai Auto-flowering Marijuana seeds
Hesitating if you want to get a blue thai plant going? You've looked left and right to make your mind but can't figure it out? Or you might just want to know more about her, in any case check out this chart.
We've grouped together all the characteristics of this cannabis strain that we've observed and read about, hopefully this will help you out