Named after the infamous chemical, the agent orange strain of weed luckily is not toxic. In fact, it has been used for its happy and euphoria-inducing high that can bring about a case of the giggles. It tastes very citrusy, like lemons and oranges, which also is known for happy and feel-good sensations
Despite having a name that might leave thousands of Vietnam war veterans reeling in PTSD-induced terror, Agent Orange cannabis is actually a powerful, well-balanced marijuana strain that many have sought out for its uplifting, therapeutic effects. With a noticeable orange flavor and a rich lineage that guarantees its value, Agent Orange marijuana offers a genotype with both indica and sativa qualities, making it one of the top hybrid marijuana strains out there.
As you probably know, Agent Orange was an herbicide mixture that America used during the Vietnam War; it was used to remove forest cover and crops, and an estimated 20 million gallons were used in Laos, Cambodia, and Vietnam from 1961 to 1971.
Anyway, let's take a look at this potent strain and learn all about its effects, flavors, aromas, and even – if you are so inclined – how you can grow it yourself. Unlike Agent Orange the chemical (which is fortunately no longer made) the Agent Orange marijuana strain is widely available in the United States. And rather than destroying things, it is a strain capable of boosting your mood. Let's check it out.
What is the Agent Orange Cannabis Strain?
Agent Orange weed was created by TGA Genetics, and is a cross of Jack the Ripper and Orange Velvet (a well-known strain with a smooth, citrusy intensity). It is full of therapeutic terpenes and cannabinoids, and while it may not be the strongest cannabis on the market, it gets its name from its delicious orange taste.
It is a sativa dominant (75%) hybrid with high resistance to diseases and pests, and was designed to be as close to the flavor, aroma, and appeal of a fresh orange as possible. Bred as a hybrid with high sativa elements, Agent Orange weed offers an interesting blend of self-motivating sativa properties with a pleasant addition of relaxing indica effects.
With this unique blend – combined with its fresh, bright flavor – Agent Orange marijuana is a great daytime strain to use just as you are beginning your normal routine. Primarily utilized in this way by those who struggle with mental disorders like stress and depression, it can also be useful as a mild pain treatment thanks to its calming and therapeutic effects.
Sativa Dominant Hybrid – 75% Sativa / 25% Indica
THC: 25%
Combine Orange Skunk with Jack's Cleaner and Space Queen, and you get Agent Orange – no, not the Vietnam-era pesticide, but rather the medical marijuana strain. Agent Orange also known as "Agent O," a sativa-dominant hybrid with a 75:25 sativa/indica ratio, Agent Orange produces an uplifting cerebral high ideal for depression, anxiety, and migraines. It can be useful in treating minor aches and pains, but it isn't recommended for treatment of chronic pain. The high starts to descend after just half an hour, making this a good strain for daytime activities and house chores. Agent Orange smells like citrus, naturally, and it tastes like sweet and spicy oranges, while the bud has a deep purple appearance. There are few adverse effects, though dry mouth is possible. Agent Orange, despite its name and the massive military mistake associated with it, is popular across the United States, but especially in Michigan and the Pacific Northwest. With THC levels up to 25%, it definitely one of the most potent strains around; it's a very effective medication for many people. Agent Orange is a fun choice for everyday living that medicates without overpowering.
About Agent Orange
Agent Orange is a Sativa-dominant hybrid known for its orange, spicy taste that delivers a potent cocktail of Sativa effects. New users should be aware that the cerebral effects of this strain have been called "almost trippy". A strong sense of euphoria, which raises the user's mood and produces a strong fuzzy disconnect from reality, is typical.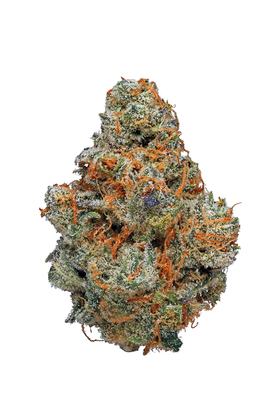 The happy feeling users experience on this strain may be accompanied by a mild body-numbing effect. Users should be prepared for a strong attack of the munchies although snacks do not need to be on-hand because of the energy Agent Orange generates. This is a great strain for getting out and getting things done as the "trippy-ness" wears off in approximately 20-40 minutes after its onset. As with most Sativa strains, common negative side effects include cotton mouth, dry eyes, anxiety, paranoia and headache.
This strain is great for daytime or morning use. Agent Orange is often used by people seeking refuge from stress, anxiety and depression. While it is not recommended for anything beyond minor aches and pains, Agent Orange has been helpful to patients managing minor infrequent pain. It has also been useful to patients living with chronic migraines and fatigue.
Agent Orange was the idea of TGA Subcool Seeds. They crossed local Orange Skunk with Jack's Cleaner and Space Queen. While the plant is capable of reaching heights of up to 10 feet when grown outside, it is recommended that Agent Orange be grown indoors and topped and trained into a bush. Reportedly, Agent Orange is a heavy yielding strain. The plants will not fully develop their yield until the last two weeks of flowering. Flowering time is between 55 and 65 days.
Agent Orange Aroma, Flavor and Aрреаrаnсе
The very first thing you will notice upon getting a whiff of Agent Orange weed will be the smell of, erm… oranges. However, this isn't the smell of just any boring old orange juice or artificial orange substitute – this smells like the real deal.
Realistically, it is the terpenoid profile of the strain that is responsible for its remarkable smell; the fruity citrus mixture of lemon and orange is a joy to behold, and the actual smell of oranges can vary between overt sweetness and the tart complexity the emanates from a small tangerine.
In a sense, Agent Orange cannabis smells like what you would imagine a fresh orange to smell like – even with the pungency of the citrus oils that compliment it. Behind this initial aroma is the more general flavor of citrus, as well as a cloying sweetness that punctuates underneath.
The flavor of Agent Orange is remarkably similar to its initial aroma, though there is an odd umami quality to the taste which is unlike any other orange-flavored strain you've ever enjoyed before.
| Agent Orange marijuana tastes as sweet and citrusy as it smells, with orange as the main flavor.
There is also a hint of cheese in the taste, however, and the mix of sweet and savory tang that is produced is simply wonderful — this is unquestionably one of the tastiest strains you'll ever find.
Of course, the aftertaste is perhaps the best part of the smoking experience – a spiciness reminiscent of that old European tradition of mulled wine, filled to the brim with oranges stuffed with cloves. Agent Orange marijuana is an oddly festive strain, offering somehow both a Christmas flavor and a more mundane orange experience at the same time.
In terms of appearance, the Agent Orange strain is an interesting oddity as its large, flat-topped colas can actually turn purple if appropriately dried. This odd detail makes Agent Orange pot extremely noticeable and distinctive, and also makes it a lot easier to pick out of a dispensary display.
The purple colored, potent orange strain is thus a very popular one, offering a myriad of wonderful effects and benefits. Furthermore, it is a plant that grows tall with wide green leaves popping out from a center laden with buds, orange pistils, and white trichomes. All in all, it is an aesthetically pleasing color combination that appeals to the human senses.